EXCITING NEWS FOR 2023!


NEW VENUE FOR THE LUNCHEON!
We are excited to announce that the luncheon will take place at the Westin Hotel! (RESERVATION NECESSARY)
The Westin Hotel Buffalo
Grand Ballroom
250 Delaware Ave, Buffalo, NY 14202
(5 blocks north of St. Anthony's Church)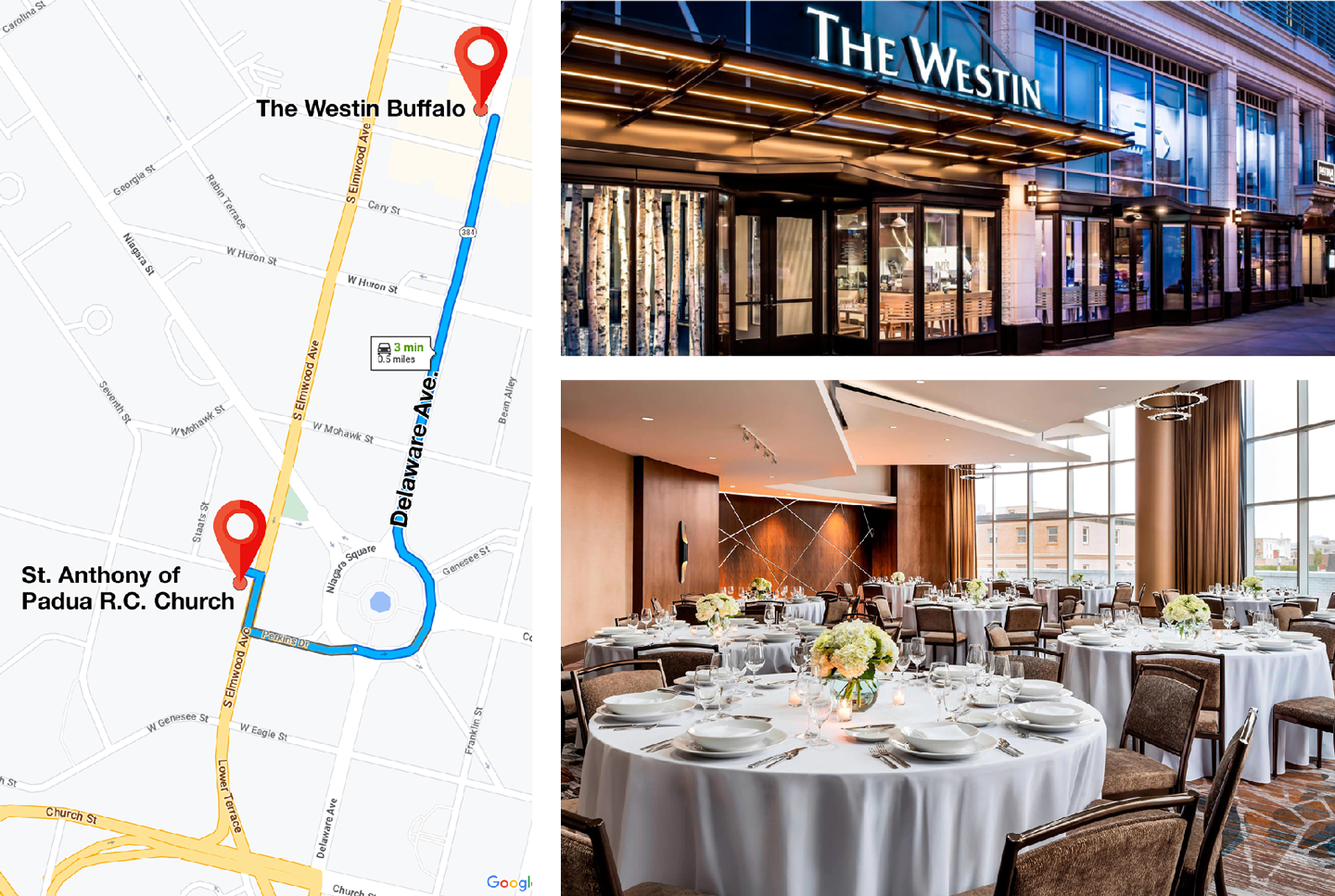 Parking available on Delaware Ave, or complimentary valet parking at the Westin Hotel
VALET PARKING INCLUDED


Upon arrival, mention the Mussomeli Luncheon for complimentary Valet Parking
---
Join us for the 93rd Anniversary of the Buffalo Feast of our Lady of Miracles of Mussomeli,

Sunday, September 10, 2023
11:00am – St. Anthony's Church, 160 Court St. Buffalo, NY, 14202
The largest annual Italian-American religious celebration in Western New York!
---
For those unable to attend the Mass in person, it will be live streaming as a public video, beginning at 10:55am EST on our Facebook page, 'Mussomelese Society of WNY': www.facebook.com/mussomelesewny.
Even those without a Facebook account will be able to go to the link and view the Mass.
---
We look forward to seeing you for another heart-warming Feast on September 10th.
Each year our Society makes a donation to charity. This year's recipient is the St. Vincent de Paul Society (for the poor in Mussomeli). To help defray some of the expenses, you may want to make a donation, to be sent to the Committee Treasurer: Michael Ervolina, 45 S. Rossler Ave., Buffalo, NY 14206. Checks payable to "Our Lady of Miracles Society of WNY").
---
The Mussomelese Society of Our Lady of Miracles of Western New York is a 501(c)(3) Not-For-Profit organization. Every year, on the second Sunday in September, the society gathers to celebrate the miracle that occurred on September 8th, 1530 in Mussomeli, Sicily.
The annual feast of Our Lady of Miracles in Buffalo is the largest annual Italian-American religious celebration in Western New York. The Feast commemorates the healing of a paralytic through the intercession of Mary just outside the Sicilian town of Mussomeli. The local observance attracts hundreds of devotees of Mussomelese ancestry from Western New York, Rochester, and Southern Ontario.
Contact Us
Feel free to reach out with any questions or comments regarding the WNY Mussomelese Society or annual feast.